Maker of Quality Custom Leatherwork
Welcome to the saddle shop! We invite you to take some time and browse through the beautiful craftmanship of Chelsea Sazama.
Our specialities are handmade saddles, chinks/chaps, floral belts, tapaderos and medicine/saddle bags. We put our heart and soul into each custom piece.
Buying custom leatherwork is a special treat for you and/or your horse. With this in mind, we've put together photo albums of past projects and information to best help us partner with you in an effort to fulfill all your leather needs.
When you're ready to order, just give us a call or email. 406-939-2277 RockingS2018@hotmail.com
Located between Glendive and Fallon, Montana
Make today great! God Bless!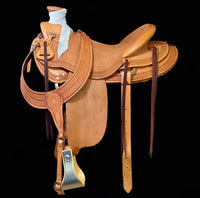 Handmade Saddles
Built to last. Deep, balanced ground seats. Ride all day, comfortably. These are tough ranching/roping saddles.
See More Saddles
Classes & Videos
I offer a couple different styles of classes. Either you can come join me in the shop or watch one of my videos which covers everything we go over in the in-person classes.
More Info on Classes & Videos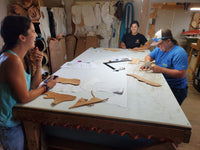 Laser-Engraved Hats
Customize the leather logos with your design, company name, brand, etc. No limit to what designs we can make!
Bulk discounts available for large orders.
See more hats
Chinks/Chaps
Chinks. Armitas. Shotgun Chaps. Arizona Bells. Woolies.
Built to endure the toughest of days, yet elegant enough to take to the show pen. Each pair is made to your specific measurements and style. Color options and add-ons are limitless!
SEE MORE CHINKS/CHAPS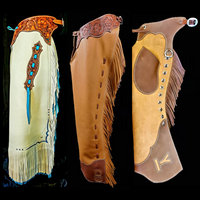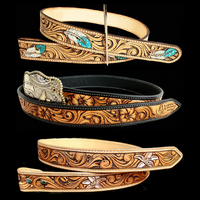 Belts
Our belts are made from leather that tools beautifully and is tough enough to last on the job! All floral tooling designs are hand-drawn here in our shop to give your belt a one-of-a-kind look.
See More Belts
Tapaderos
Bull Nose or Eagle Beak styles. Weighted and built properly to ensure they are comfortable to ride in on those long days. Your choice of stirrups included.
See More Tapaderos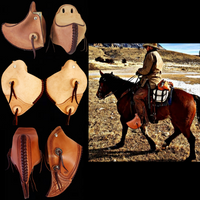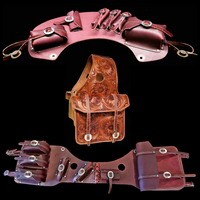 Medicine/Saddle Bags
Medicine bags are made out of Latigo Leather. This leather is made to hold up to abuse, dirty conditions, moisture, etc. Choice your bottle holder sizes, syringes, needle pouches, etc. Each set is fully customizable to your needs.
Saddle bags can be made out of that same latigo leather or from saddle skirting. With the later, we can stamp or floral tool them up to make a fancy set to make your saddle! The possibilities are endless.
**Special feature** Adjustable straps to tie to your back billets - this really snugs those bags down. NO FLOPPING around!
See More Medicine/Saddle Bags
Let customers speak for us